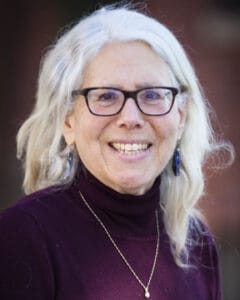 In most other years that might be a routine greeting, but not in 2022. Despite the enormous obstacles put in our path by the pandemic, we are here, in person, 1500 attendees, about to start our conference. Let's look at some highlights.
This year VSS features a host of timely and new events. Our Student-Postdoc Advisory Committee, in its second year of existence, continues to create original workshops on topics of particular relevance to younger investigators. This year they are hosting workshops on Open Science (at both VSS and V-VSS) and an important roundtable discussion on Accessibility in Vision Science at V-VSS. Thanks to the SPC for all its contributions this year.
Networking opportunities are at the forefront of VSS 2022. We start off on Friday night with the outdoor opening night reception. Be on the lookout for our "First-time attendees" tables. If you're a VSS veteran greeting all your old friends, be sure to stop by and meet some first-time attendees.
Many of you from across the globe have talked about the importance of having a gathering where attendees can meet and share experiences with those of similar backgrounds and life experiences. Celebrating Diversity, a networking event, will give you an opportunity to engage with those with similar backgrounds, as well as sharing your stories, and learning from others. All are welcome. We look forward to seeing you at Celebrating Diversity and learning more about how VSS can best serve its diverse community of participants.  
VSS 2022 also includes three satellite events devoted to networking: Visibility a gathering of LGBTQ+ vision scientists and friends, FoVea (Females of Vision Science), which this year is focusing its VSS satellite on the impacts of the pandemic, and of course the Canadian Vision Science Social, back in person for 2022.
VSS is happy to announce that this year we were able to award travel grants to 130 student and postdoctoral attendees thanks to funding from Elsevier, and from an R-13 conference grant awarded to VSS by NIH. This year we also inaugurated the annual John I. Yellott Travel Award (thanks to generous donations from Friends of Jack Yellott), which was given to two early career presenters to honor Yellott's many foundational contributions to vision science. Thanks as well to our sponsors whose generous contributions were instrumental to supporting many facets of the meeting.
All VSS registrants are automatically registered for V-VSS (June 1-2), and VSS poster presenters have the opportunity to present their posters virtually at V-VSS. One V-VSS highlight is the Keynote address to be given by Geoffrey Hinton, who will talk about Coordinate Frames and Shape Perception in Neural Nets. (Not attending VSS this year? You can register to attend V-VSS and have access to all the VSS session recordings, poster PDFs, as well as all the V-VSS sessions and events, through September 30.)
It is a vast understatement to say that none of this would have been possible – a full and busy VSS 2022 meeting and a separate virtual conference – without the dedication, hard work, creative ideas, energy, insights and commitment to VSS of Meeting Perfect, in particular, Shauney Wilson (President), Shawna Lampkin, Jeff Wilson, Lily Carrick and Lynn Flannery. I am awed by how much this dedicated group of people has been able to accomplish over the past year and especially over the past months. They have been operating under constantly shifting and challenging conditions to organize the meeting, create the many virtual tools and platforms we need, expand and update the VSS website, and work with the board to manage the many operations and activities of the society. VSS is privileged to have this group stand behind our organization and work to make this conference the best possible experience for our members, and the best possible platform for vision science.
The VSS Board of Directors, Geoff Boynton, Rowan Candy, Jody Culham, Anya Hurlbert, Shin'ya Nishida, Ruth Rosenholtz, Johan Wagemans, and Laurie Wilcox, went above and beyond, taking on more than usual in this unpredictable year in order to create the scientific programs, design the supporting activities and consider at all times what policies and decisions were in the best interests of the members. VSS also acknowledges the work of many volunteers, including our DEI Advisory Committee, Program committee, and Awards committees, I also want to personally acknowledge the advice, wisdom and support of our two past presidents, David Brainard and Laurie Wilcox.
The final acknowledgement and appreciation goes to all of you, the scientists at all career levels who produced the cutting edge, exciting science we're going to learn about over the next few days and weeks. No scientific meeting can shut out the troubles and conflicts of the world, and we are certainly not aiming to do so. We stand in solidarity with our membership and reaffirm our commitment to global social justice. We are scientists, mentors, educators, students, scholars, colleagues and friends. We are persisting and grateful to be together and have the opportunity to do something we love.
VSS 2022 is happening. See you at the meeting!
Eileen Kowler
VSS President, 2021-2022
May, 2022