In 2018, VSS became a member of the Federation of Associations in Behavioral & Brain Sciences (FABBS).
FABBS is a coalition of scientific societies that share an interest in developing knowledge for the betterment of society by advancing the sciences of mind, brain, and behavior. FABBS represents the interests of its scientific societies by
Educating federal representatives and Congress about the importance of research in the sciences of mind, brain, and behavior
Advocating for legislation and policy that enhance training and research
Providing sources of expertise and knowledge to federal agencies, Congress, and the media
Encouraging the sound use of science in the creation of public policy
Fostering effective interaction between agencies and organizations that fund research and the community of scientists and scientific societies
Facilitating information exchange among constituent societies as well as other scientific organizations
Congratulations to Julie Golomb, recipient of the 2019 FABBS Early Career Impact Award.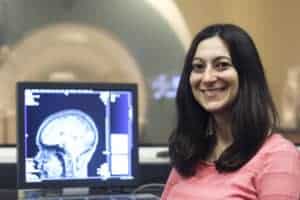 The Early Career Impact Award recognizes scientists who are in the early stages of their professional careers and have already shown promise as a leading researcher. In selecting possible honorees, FABBS draws upon the expertise of its member scientific societies to identify early career candidates who have made significant contributions to their areas of science. In addition, FABBS translates the early career scientists' research for a broad public audience by preparing general interest articles for policy makers and the public.
Read more about Dr. Golomb and an overview of her article Making Sense from Dots of Light.
To read the latest FABBS news or sign up to receive the FABBS newletter, please see the FABBS News page.
If you have questions about US science policy or funding, please feel free to send an email to or contact VSS member Jeremy Wolfe ( who is on the FABBS Board.