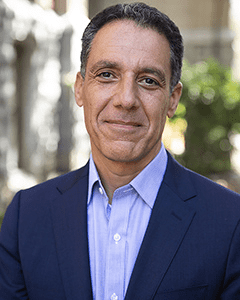 Hany Farid
Electrical Engineering & Computer Sciences and the School of Information, University of California Berkeley
Hany Farid is a Professor at the University of California, Berkeley with a joint appointment in Electrical Engineering & Computer Sciences and the School of Information. His research focuses on digital forensics, forensic science, misinformation, and human perception. Dr. Farid received his undergraduate degree in Computer Science and Applied Mathematics from the University of Rochester in 1989, a M.S. in Computer Science from SUNY Albany in 1992, and his Ph.D. in Computer Science from the University of Pennsylvania in 1997. Following a two-year post-doctoral fellowship in Brain and Cognitive Sciences at MIT, Hany Farid joined the faculty at Dartmouth College in 1999 where he remained until 2019. Dr. Farid is the recipient of an Alfred P. Sloan Fellowship, a John Simon Guggenheim Fellowship, and is a Fellow of the National Academy of Inventors.
To learn more about Professor Hany Farid and his research, please visit his website.
Creating, (Mis)using, and Detecting Deep Fakes
Saturday, May 20, 2023, 7:15 – 8:15 pm, Talk Room 1-2
Synthetic media – so-called deep fakes – have captured the imagination of some and struck fear in others. These stunningly realistic images, audio, and videos are the product of AI-powered synthesis tools. Although just the latest in a long line of techniques used to manipulate reality, deep fakes pose new opportunities and risks due to their ease of use and their democratized accessibility. I will describe how deep fakes are created, how they are being used and misused, and if and how they can be perceptually and computationally distinguished from reality.