Access All Program Information from Your Mobile Device
The VSS 2017 program is available in two electronic formats.
SmartPhone App
Compatibility: iPhone 5 or greater, running the latest iOS
No internet required after installation
The SmartPhone app, once downloaded, requires no internet connection. The app offers a program schedule, attendee directory, presenter directory and the ability to bookmark sessions and presentations, take notes and flag your favorites.
Installation Instructions:
1. Download and install the MA eEvent app from the Apple App Store: Download the App
2. Activate the app using one of the two following options:
Option 1: Enter "vss2017" as the username and password.
Option 2: Use the "scan event QR code option" and the QR code below.
NOTE: If you already have the app installed from the 2016 meeting, you will need to "Reset Meeting ID" first, before activating for 2017. The "Reset Meeting ID" option can be found inside the MA eEvent app, on the left menu.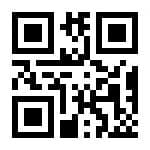 Mobile Web App
Compatibility: All devices
Requires Internet
The mobile web app is compatible with all devices and allows you to view/search the full meeting program. In addition, you may access additional features such as an attendee directory, speaker directory and additional meeting information.
Access the Mobile Web App at: http://visionsciences1.org/vss_public/mobile/index.php
Log in with your VSS user name and password.