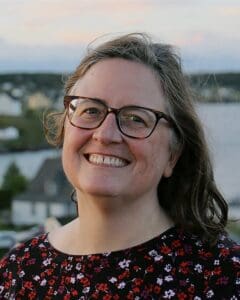 We're thrilled to be back to a fully in-person meeting with attendance approaching pre-pandemic levels. Let's look at some of the highlights.
Of course, the foundation of the meeting is the scientific content. This year VSS features 215 talk presentations and 1084 posters. For the first time, the Undergraduate Just-in-Time poster sessions will be in-person on Saturday and Monday so please come out to meet and support our undergraduates.
Considering the proliferation of artificial intelligence algorithms and the new challenges they present to society, this year's Keynote Lecture on Saturday is especially timely: Hany Farid will be talking about "Creating, (Mis)using, and Detecting Deep Fakes".
Bring your dancing shoes and be ready to glow on Tuesday night — Club Vision is back!
The Awards Session on Monday celebrates the accomplishments of three remarkable vision scientists and provides an opportunity for them to present their work. The 2023 Davida Teller Award will be presented to Mary A. Peterson for her pioneering research in figure-ground segmentation. The Ken Nakayama Medal will be awarded to Bill Warren in honor of his research into perception and action in real and virtual worlds. The Elsevier/VSS Young Investigator Award will go to Brian Anderson to honour his insights into the relationship between visual attention and reward.
VSS provides many training, mentorship, and career-building opportunities and aims to ensure they are beneficial to members from diverse backgrounds. The Student Postdoc Advisory Committee (SPC) is hosting an Accessibility Event on "How to Make Accessible Scientific Presentations" on Sunday. We encourage everyone to attend, especially trainees, to learn how to optimize the reach of posters and talks to all in the community.
This year the SPC and Females of Vision et al. (FoVea) are working together to host a two-part Career Transitions Workshop. The workshop features an Early Career Panel of researchers who have transitioned between a variety of career paths, followed by a Round Table Discussion with smaller groups. A special Symposium on Critical Perspectives on Vision Science will address how the field can overcome historic biases in domains like participant selection and development of stimuli & methods. An Inclusivity Roundtable on Saturday will provide an opportunity for people from a range of backgrounds to network. US-based researchers can learn more about American funding opportunities in the US Funding Workshop on Sunday. Trainees from all countries can also benefit from a Workshop on Strategies for Funding Your Research Ideas Around the Globe on Saturday.
Students and postdocs can sign up to participate in Meet the Professors on Monday and Connect with Industry on Tuesday. The Undergraduate Meet-and-Greet on Monday provides a friendly opportunity for undergraduate students to meet one another and discuss career options with graduate students and faculty members. The Canadian Vision Science Social on Sunday facilitates networking with colleagues north of the border. The Visibility event on Friday brings together LGBTQ+ scientists and friends. Longstanding satellites are returning – Computational and Mathematical Models in Vision (MODVIS), Philosophy of Vision Workshop (phiVis), and events hosted by VPixx and WorldViz. In addition, this year's VSS includes a new Pre-Data-Collection Poster Session on Monday where researchers can discuss research projects in the planning stage. All events are open to everyone.
All registrants are encouraged to join the Opening Night Reception on Friday as well as Demo Night and the preceding beach barbeque on Monday.
In the Public Lecture, Rowan Candy will discuss "Seeing Through the Eyes of a Baby" offsite at the Enoch Davis Centre.
Although we have eliminated the online component of the meeting, V-VSS, we have nevertheless preserved some of the benefits we gained from the online and hybrid meetings over the past three years. All talks will be recorded and available online, and poster presenters have the opportunity to upload their posters for current members and registrants to access. These resources are available online for all members through August 31.
VSS would not be possible without the tremendous amount of work that goes on behind the scenes by many dedicated individuals. The Society is incredibly fortunate to have the longstanding experience, initiative, creativity, professionalism, and dedication of our organizers, Meeting Perfect, particularly Shauney Wilson (President), Shawna Lampkin, Jeff Wilson, and Lily Carrick. Their hard work and proficiency lives up to the ideals conveyed by the company name. The conference also relies on the dedicated service of our Board of Directors – Geoff Boynton, Rowan Candy, Anya Hurlbert, Krystel Huxlin, Eileen Kowler, Mike Landy, Shin'ya Nishida, and Ruth Rosenholtz. As the number of events and initiatives have grown over the years, this team has dedicated untold time to optimize the meeting. In addition, past presidents Eileen Kowler and Laurie Wilcox have been invaluable sources of wise advice. VSS also benefits tremendously from the service of many volunteers, including the SPC, the DEI Advisory Committee, Awards Committees, FoVea, and abstract reviewers.
We are also grateful to the National Eye Institute for providing travel support to 75 award winners, Elsevier for their continued support of the International Travel Awards and Young Investigator Awards, and our corporate Sponsors and Exhibitors for their ongoing contributions.
Jody Culham
VSS President, 2022-23
April 2023