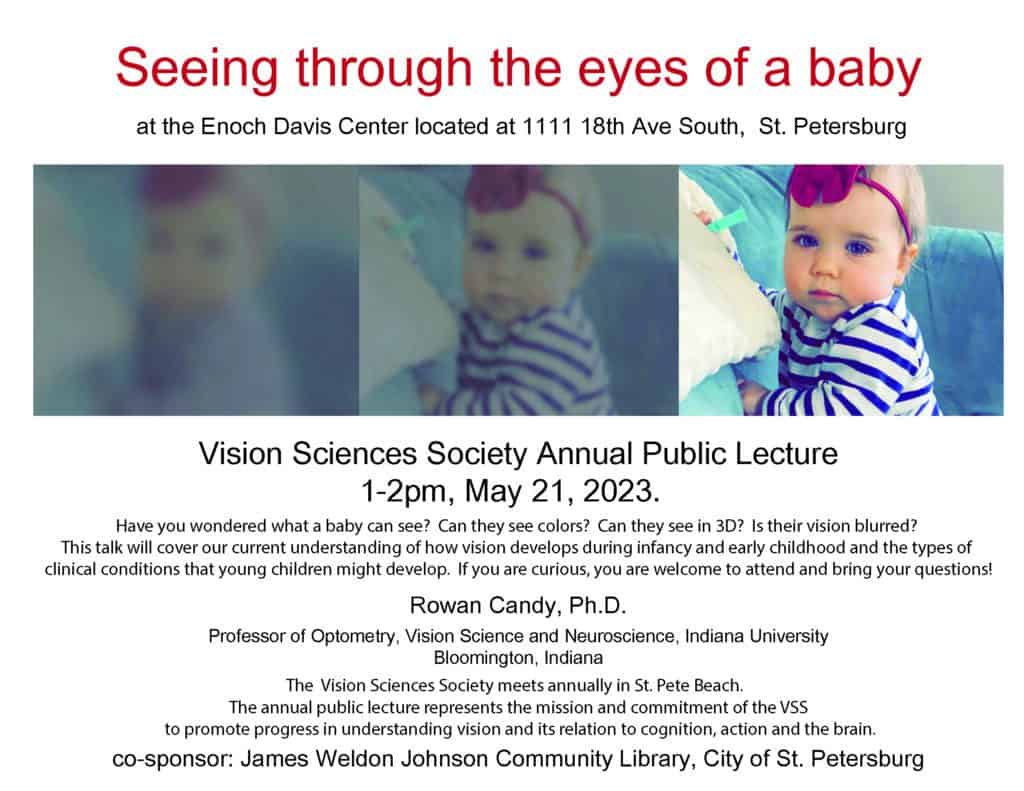 Rowan Candy
Professor of Optometry, Vision Science and Neuroscience, Indiana University, Bloomington, Indiana
Seeing through the eyes of a baby
Sunday, May 21, 2023, 1:00 – 2:00 pm, Enoch Davis Center located at 1111 18th Ave South, St. Petersburg, 33705
Have you wondered what a baby can see? Can they see colors? Can they see in 3D? Is their vision blurred? This talk will cover our current understanding of how vision develops during infancy and early childhood and the types of clinical conditions that young children might develop.
Rowan Candy is a clinician scientist who investigates the development of vision. She studies how infants interact with their natural visual environment, in particular asking how well they are able to focus and align their eyes with the goal of preventing common visual disorders. She studied at the University of Wales and UC Berkeley, and is currently a Professor of Optometry, Vision Science and Neuroscience at Indiana University.
About the VSS Public Lecture
The annual public lecture represents the mission and commitment of the Vision Sciences Society to promote progress in understanding vision and its relation to cognition, action and the brain. As scientists we are obliged to communicate the results of our work, not only to our professional colleagues, but also to the broader public. This lecture is part of our effort to give back to the community that supports us.
Attending the VSS Public Lecture
Admission to the Public Lecture is free. The lecture will be held on Sunday, May 21 at 1:00 pm at the at the Enoch Davis Center located at 1111 18th Ave South, St. Petersburg, 33705.
The Enoch Davis Center is a seven mile drive from the TradeWinds Island Grand Resort (see directions).
The Public Lecture is co-sponsored by the St. Petersburg Library System, whose help we gratefully acknowledge.