Each year, VSS solicits its membership to submit creative visual images related to the field of vision science, the Society, or the VSS meeting. There are two competitions,Website Banner Competition and the T-Shirt Design Competition. Winning graphic images are featured on the program, abstracts book, signage, and t-shirts.
The Vision Sciences Society is pleased to recognize Karissa Payne and Evi Hendrikx, as the winners of the 2023 Graphics Competition.
Website Banner Competition
Winner: Karissa Payne, Kansas State University

This design takes inspiration from the technologies and statistical methods we use every day to make our science happen. The VSS logo is depicted as the pupil within an eye shape constructed with angled lines, making a camera aperture shape for the iris. The background design takes inspiration from the statistical models we create to explore connections in our data. Dots and lines indicative of parameters and weightings are remixed, creating an abstract pattern evocative of the complex nature of the elements we study.
T-Shirt Design Competition
Winner: Evi Hendrikx, Utrecht University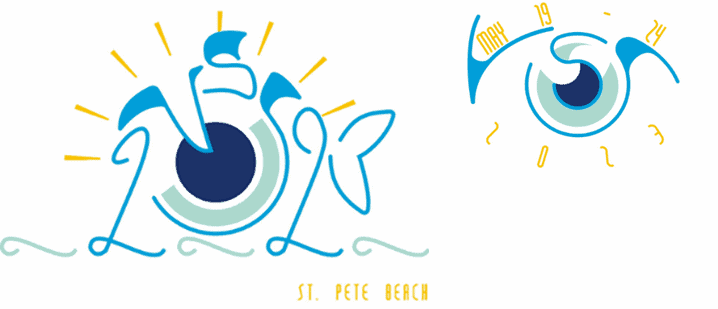 This year's t-shirt design uses the letters of VSS to create the contours of illustrations. The front image is an eye, to make the explicit link to the topic of the conference: vision science. The back image combines the letters of VSS with the numbers of 2023 to mimic VSS' beautiful setting, with a wink to the eye on the front. This image also playfully demonstrates the interaction between bottom-up and top-down processing in visual perception: as soon as you spot the dolphin, you will continue to see it!