Tuesday, May 25, 2021, 12:00 – 1:00 PM EDT
Organizers: Dr. Lindsey Fraser, VPixx Technologies; Dr. Sophie Kenny, VPixx Technologies
Speaker: Dr. Lindsey Fraser, VPixx Technologies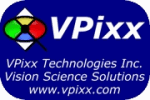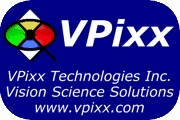 Over the past year, VPixx Technologies has developed the LabMaestro Simulator, a software tool that simulates VPixx's data acquisition hardware. The Simulator can record button presses from a virtual button box, simulate incoming triggers and analog signals to the virtual data acquisition system, and mimic timestamps for a virtual display. The LabMaestro Simulator allows researchers to develop and test experimental protocols without a connection to in-demand hardware or limited-access research sites, such as MRI suites. Little to no modification of code is required to switch between virtual and physical VPixx devices.
The goal of this satellite is to introduce the LabMaestro Simulator and provide an overview of its functionality. We will start with a review of the register-based architecture shared by all of our hardware, and the benefits this architecture offers for signal timing and synchronization. Principles such as writing to hardware registers, as well as locking triggers and data acquisition to visual events, will be discussed. We will show how the simulator replicates this architecture via a virtual server, and highlight the differences between the behaviour of virtual and physical devices, where such differences exist.
The satellite will end with a demonstration of some of the utilities available through our different licensing options. VPixx staff scientists will be available for questions about the Simulator at the end of the satellite, and throughout the remainder of the conference.
We look forward to seeing you there!