Peter Thompson,  BSc, PGCE, PhD, FBPsS
University of York, UK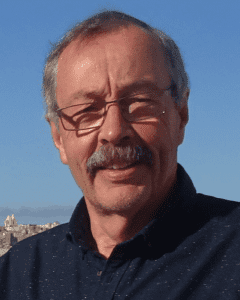 Following the completion of his doctorate (investigating velocity aftereffects) at the University of Cambridge in 1976, Peter Thompson was awarded a Harkness post-doctoral Fellowship from the Commonwealth Fund to study with Jack Nachmias at the University of Pennsylvania. Returning to England in 1978 he took up a lectureship at the University of York, where he has taught for 40 years.
In 1990 he was awarded a Senior Research Associateship from the U.S. National Research Council to work at NASA-Ames Research Center, Moffett Field, CA.
As well as publishing widely on a variety of topics, he has acted as a managing editor of the journal Perception for over 20 years and for i-Perception since its beginning. His textbook, Basic Vision, (written with Tom Troscianko and Bob Snowden) remains a best seller.
In 2006 he was awarded a Vice-Chancellor's teaching Award from the University of York and a National Teaching Fellowship from the English National Education Academy. In 2006 he received the British Psychological Society's Award for Excellence in Psychology Education.
Among many outside interests, Peter enjoys cycling and in 1999 he won a Millennium Fellowship from the Royal Society and the British Association for the Advancement of Science which enabled him to create a scale model of our solar system along a 10km cycle track near York.
Peter has attended every meeting of the Vision Sciences Society since its inception.
Visual Illusion in the Real World
Sunday, May 19, 2:00 pm, St. Petersburg Main Library, St. Petersburg, Florida
Visual illusions have long perplexed vision scientists and delighted the general public for many years.  Most of these illusions are artificially created in the laboratory and while the underlying visual processes that give rise to some illusions are well-understood by scientists, many challenge our existing theories.  However visual illusions are not the exclusive reserve of lab-based scientists, indeed we can encounter many of these effects in our everyday lives.  This talk will illustrate some of the occasions where what our eyes see conflicts with what we know to be true, even in the 'real' world.
Attending the Public Lecture
Admission to the Public Lecture is free. The lecture will be held on Sunday, May 19 at 2:00 pm at the St. Petersburg Main Library, 3745 9th Avenue, N. St. Petersburg, FL 33713. The library is a seven mile drive from the TradeWinds Island Grand Resort (see directions).
About the VSS Public Lecture
The annual public lecture represents the mission and commitment of the Vision Sciences Society to promote progress in understanding vision, and its relation to cognition, action and the brain. Education is basic to our science, and as scientists we are obliged to communicate the results of our work, not only to our professional colleagues but to the broader public. This lecture is part of our effort to give back to the community that supports us.