Exhibitors
Exhibits are located in Banyan Breezeway. View the Exhibits Floor Plan.
Exhibit Hours
Saturday, May 20, 9:00 am – 5:30 pm
Sunday, May 21, 9:00 am – 5:30 pm
Monday, May 22, 9:00 am – 12:30 pm
Tuesday, May 23, 9:00 am – 5:30 pm
Booth 6
Brain Vision is the leader for EEG in Vision Science We offer full integration of EEG with many leading eye tracking systems We provide flexible and robust solutions for high density, active EEG, wireless EEG, dry EEG, and a wide range of bio-sensors like GSR, EKG, Respiration, and EMG We integrate eye tracking and EEG with other modalities such as fMRI, TMS, fNIRS, tDCS/HDtDCS and MEG If you want to know how EEG improves Vision Science and how eye-tracking improves EEG, please talk to us Let us help you push the edge of what research is possible.
Booth 9
Cortech Solutions is your source for vision science and functional neuroimaging tools, including research-grade LCD displays, eye-tracking, transcranial magnetic stimulation (TMS), EEG and evoked potentials (EP), near-infrared spectroscopy (NIRS) and more. We are your sales and support contact in the US for leading brands from around the world, including Cambridge Research Systems tools for vision sci­ence, Mag & More / PowerMAG TMS, Biosemi ActiveTwo EEG / EP, Artinis Oxymon NIRS, and more. We intend to exceed your expectations!
Booth 11
Exponent is an engineering and scientific consulting firm that provides solutions to complex technical problems. Our multidisciplinary team of scientists, physicians, engineers, and business consultants performs in-depth research and analysis in more than 90 technical disciplines. We offer clients the scientific expertise needed to understand important issues and make sound strategic decisions. Our clients include a wide range of manufacturers, utilities, insurers, industry groups, government agencies, venture capital companies, and law firms.
Exponent's Human Factors engineers and scientists evaluate human performance and safety in product and system use. Our consultants study how the limitations and capabilities of people, including memory, perception, reaction time, judgment, physical size and dexterity, affect the way they use a product, interact with an organization or environment, process information, or participate in an activity.
Our Human Factors Practice has experience in the following areas of research:
Evaluating human performance in a wide variety of applications
Visibility, conspicuity, low-illuminance scene assessment
Applying fields of cognitive, developmental and experimental psychology as well as human factors and ergonomics (such as visual perception, attention, perception-response time, decision making and auditory perception) to real-world situations
Conducting qualitative and quantitative research and experiments with human subjects through the use of questionnaires, focus groups, interviews, observations, instrumentation, and data acquisition
Safety and risk analysis
Consumer product hazard assessment
Developing safety information to be placed on products and in manuals
Assisting in the development and design of consumer products
At Exponent, we pride ourselves on the high quality of our 1,000+ employees. More than 800 are degreed technical professionals, and more than 500 have earned an M.D. or Ph.D. Exponent operates 20 regional offices and 6 international locations, and is publicly traded on the NASDAQ exchange under the symbol EXPO.
Booth 8
Feel Good, Inc. provides portable TENS (transcutaneous electrical nerve stimulation) units offering a wide variety of benefits including alleviating back, nerve, post-op, diabetic pain and migraines. Our units also improve circulation and sleep patterns to decrease the use of pain relievers that causes negative side effects.
Booth 2
MIT Press is the only university press in the United States whose list is based in science and technology. This does not mean that science and engineering are all we publish, but it does mean that we are committed to the edges and frontiers of the world—to exploring new fields and new modes of inquiry. We publish about 200 new books a year and 150 issues from over 30 journals. Our goal is to create content that is challenging, creative, attractive, and yet affordable to individual readers.
Booth 1
Please visit Oxford University Press to browse our new and classic titles including The Oxford Compendium of Visual Illusions, by Shapiro; Development of Perception in Infancy, by Arterberry; and Art, Aesthetics, and the Brain, by Huston.
Booth 3
The Psychonomic Society is the home for scientists who study how the mind works. Members of the Society are cognitive psychologists and include some of the most distinguished researchers in the field. Many of us are concerned with the application of psychology to health, technology and education. Some of the most innovative research uses converging methods such as neuroscience and computational science to achieve our research goals. But what brings us together is that we study the fundamental properties of how the mind works by using behavioral techniques to better understand mental functioning. Members of the Society perform and promote the basic science of behavior in areas such as memory, learning, problem solving, action planning, language, and perception that connect with other fields of research. Please visit us at www.psychonomic.org.

Rogue Research Inc.
Booth 14
Rogue Research Inc. develops the Brainsight family of products including Brainsight TMS and NIRS for human neuroscience as well as Brainsight Vet, a complete neuronavigation system and suite of neurosurgical tools for a variety of applications. We also offer design and manufacturing services for custom surgical tool or implants.
Booth 10
SMI designs advanced eye tracking systems that combine ease of use and flexibility with advanced technology. SMI products offer the ability to measure gaze position, saccades, fixations, pupil size, etc. Our newest devices include a 250 Hz virtual reality integration, and the 2000 Hz ultra-precise iView 2K.
Booth 13
SR Research, makers of EyeLink eye-trackers, welcomes you to VSS 2017! Come and see the EyeLink Portable Duo – a high performance eye-tracker in a portable package, or the EyeLink 1000 Plus. Starting this year, all new EyeLinks track at up to 2000 Hz binocularly by default, with up to 1000 Hz remote, head free-to move binocular tracking available. While the EyeLink Portable Duo is perfect for school or clinic visits, the EyeLink 1000 Plus provides a uniform, cutting-edge eye-tracking solution for the behavioral lab, MRI/MEG, or EEG. Start with a high-precision, high-speed eye-tracker in the behavioral laboratory and add binocular head free-to-move tracking. Include fiber optic extensions and the same hardware seamlessly becomes the world's leading MRI or MEG eye-tracker. With outstanding technical specifications, portable options, flexible experiment delivery software, and incredible customer support, SR Research enables academics. Drop by and discuss our latest hardware and software additions.

Booth 7
Thousand Lights Lighting (Changzhou) Limited or THOUSLITE is a high-tech enterprise, focusing on multi-channel LED lighting technology and light quality management. THOUSLITE is a global leading LED-based standard lighting environment provider. THOUSLITE offers full range of multi-channel LED lighting products for lighting & vision research, color viewing assessment, and camera & sensor test. We also provide customization services. THOUSLITE LEDCube any SPD simulator is designed to build customized or large lighting space, and THOUSLITE LEDView lighting cabinet is used for standard lighting space.
Booths 4 & 5
VPixx Technologies welcomes the vision community to VSS 2017, and is excited to demonstrate our TRACKPixx 2kHz binocular eye tracker, alongside the PROPixx DLP LED video projector, now supporting refresh rates up to 1440Hz. The PROPixx has been designed specifically for the generation of precise high refresh rate stimuli for gaze-contingent, stereoscopic, and other dynamic applications. The PROPixx is the most flexible display possible for vision research, featuring resolutions up to 1920×1080, and a perfectly linear gamma. The solid state LED light engine has 30x the lifetime of halogen projectors, a wider color gamut, and zero image ghosting for stereo vision applications. Our high speed circular polarizer can project 480Hz stereoscopic stimuli for passive polarizing glasses into MRI and MEG environments. Come and see the SHIELDPixx Faraday cage for installing the PROPixx inside an MRI/MEG room. In addition, the PROPixx includes an embedded data acquisition system, permitting microsecond synchronization between visual stimulation and other types of I/O including eye tracking, EEG, TMS, audio stimulation, button box input, TTL trigger output, analog acquisition, and more! VPixx Technologies will be using the PROPixx/TRACKPixx combination to demonstrate a new set of gaze-contingent paradigms!
Booth 12
WorldViz is the industry leader in immersion-ready virtual reality (VR) solutions. WorldViz's interactive visualization and simulation technologies are deployed across 1500+ Fortune 500 companies, academic institutions and government agencies.
WorldViz's core products are Vizard, a specialized development platform for professional VR application development, and VizMove, the world's only enterprise-class VR software and hardware solution. WorldViz also offers PPT, a high-precision wide-area motion tracking system, as well as professional consulting and content creation services. WorldViz technology enables users to replace physical processes with immersive virtual meth-ods. Applications range from design visualization and industrial training to interactive education and scientific research.
WorldViz has recently introduced the VR Collaboration Platform code-named 'Project Skofield' and will show a demo preview of this platform at VSS 2017.
Advertisers
SR Research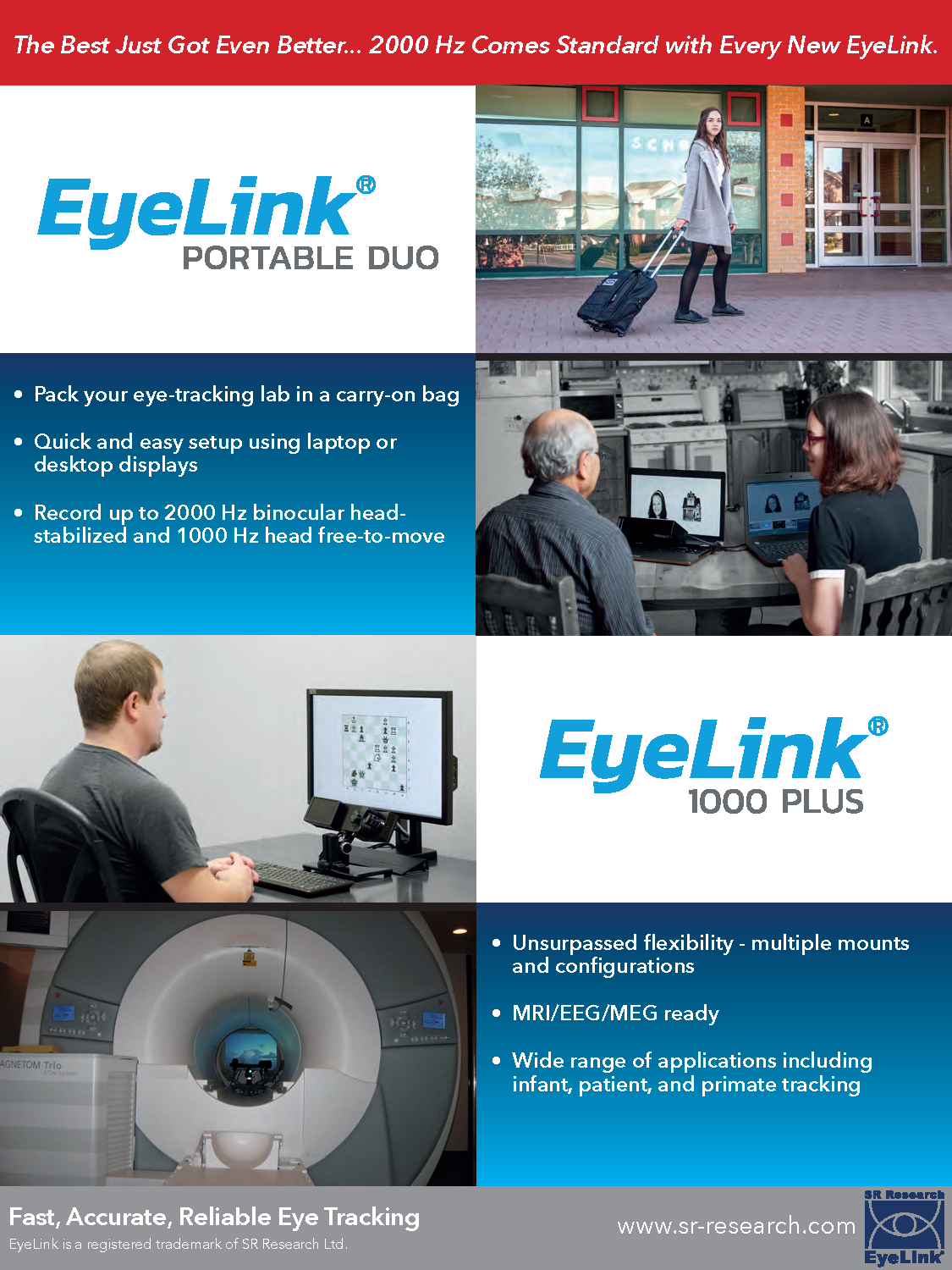 OPAM